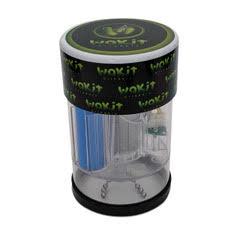 toobs
Wakit Electric Grinder
FAST & EFFORTLESS HERB GRINDING. Wakit's unique grinding technology can easily grind 2g-3g of your favorite herb in mere seconds!

PERFECT GRIND, EVERY TIME. Wakit provides a superior grinding experience no matter if herb is sticky, moist, dry, or has thick stems. Obtain a coarse texture tapping the pressure cap once or twice, or a finer grind tapping once or twice again!

DON'T GRIND STEMS! Wakit Grinders' patented ball & chain technology is powered by a strong drone motor, effortlessly spinning to grind your herb, while trimming and leaving thick stems intact to pick and toss.

EASE OF USE. With the tap-down pressure cap, grinding your herb has never been easier. It is the perfect grinder for people with dexterity or conditions affecting hand coordination.

RECHARGEABLE LITHIUM ION BATTERY. Charges in 45 minutes or less via the included micro USB cable, and the battery indicator light lets you know when it's Grind Time!